"Aaron Sago took the Chattahoochee Delayed Harvest and put it under a high-powered microscope..."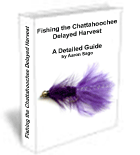 Fishing the Chattahoochee Delayed Harvest
A Detailed Guide
by Aaron Sago
Message from the Author:

This is Aaron Sago - author of Fishing the Chattahoochee Delayed Harvest. Many of you also know me as the Founder and Past-President of the non-profit organization North Georgia Trout Online (NGTO).

For those who do know me - you know just how high my standards are. Hopefully you can appreciate it when I tell you how proud I am to have completed this book and make it available to you.



"After pouring over the book and a quick trip to the fish hawk, I had my best outing on the dh yet! Thanks for a great book.

I decided to get serious about trout this year and I've been fishing hard for a couple months with little success. Your book accelerated my learning process. Now I can spend the rest of the season catching fish and refining my approach. Thanks again."
- David Hauck (aka "Davestired" on NGTO)




"What a great resource. I just have to say that I can't help but appreciate all of the hard work (granted, you were fishing, but it still was a lot of hard arduous work, I'm sure) that you invested - You're research is just amazing.

I also really appreciate the fact that you explain so many things that apply to flyfishing in general, that some of us may have felt too stupid to perhaps inquire about."
- Gregory F Martin




"Great book. Maybe I'll get to meet you at the DH."
-Frank Gordon (aka "Sparsehackle" on NGTO)




Thanks Aaron for your note. I was able to download the book without any problems and proceeded to read the entire thing in about two hours. I took my time to take it all in. I have even been to Wal-Mart to pick up a few of the indicators. Your book has a lot of good information.
-Joe Quimby

Who should buy this book?


If you are new to the sport and want to learn more about the Chattahoochee Delayed Harvest (which is an EXCELLENT destination for beginners)...

If you have never fished the Chattahoochee Delayed Harvest (or don't know what it is)...

If you are already fishing the Chattahoochee Delayed Harvest but do not average 30 or more fish per trip...

If you are an advanced angler but want to learn the specific techniques, patterns, and locations that are absolutely the most effective on this stretch of river...



"Great book I really enjoyed it ! Best of luck with it. I only wish you gave fishing lessons."
-Steve Williams, (aka "Urban Angler" on NGTO)




"I fish the 'hooch DH regularly, but picked up quite a few tips from your book. Thanks for the research and quality of information."
- Bert Blanchard




Thanks for the great book! I am new to North Ga. I came from southeast Tn. I was born and raised in the foothills of the great smokies. Thus, I love to fish for trout. Your book will be a great help as I learn the streams and how to fish them in north Ga. Thanks again.
- Gerald Atkins




"You're the man! I just skimmed the book as it was printing out and got 2 good ideas right away. I'll let you know how it goes."
-Geoff Frisch




This book isn't for everyone.

I'll come right out and say it - this book is a spoiler. The information on seasons, patterns, techniques, and locations took years to gather. There's no way around it - if you read this book your fishing productivity will spike unnaturally.



The map section alone is worth the price.

The map section of this book is like no other that I have ever seen. In the OVER 15 PAGES OF HIGHLY DETAILED MAPS you'll find all the standard stuff... overview, directions, etc... but you'll also find specific locations for fish - and we're not talking general locations - but specific locations BY MONTH. You won't find these maps anywhere else as this is ONLY POSSIBLE with YEARS OF RESEARCH and assiduous effort.

This is an image of the ACTUAL key used in this book for the 15 pages of maps: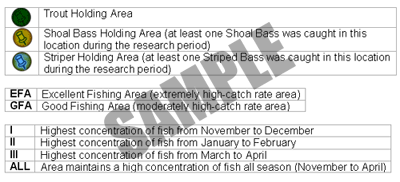 ... and here is a very scaled-down image of one of the ACTUAL fishing maps used in this book:
"I had no problem downloading the book. I copied it to my hard drive and printed a copy with the color printer. I'm a regular at Jones Bridge since I only live 1-2 miles away. I fished the DH section of the Chattooga last Saturday and am going back there tomorrow with my son. I usually fish UL but got a fly rod a few weeks ago. Tomorrow should be interesting as it will be my first time out with the fly rod. Your book had lots of great information that I can use when ever I trout fish. Thanks."
-Bill Mann




"This is EXACTLY what I was looking for. This is the third book I have purchased from you and is definitely the best so far.

Thank you and I can't wait until November!"
-R.C.




"Hi Aaron----Was meaning to give you some feedback. Both Nanny and Hooch DH manuals were downloaded without gliches, printed, and are in bound folders. THEY ARE TERRFIC! I've been fly fishing for about 18 years, usually for 7-10 days a year, so not a lot, and mostly in the west for trout and of late, steelhead with two handed rods. Now retired, I wanted to start fishing nearer home. Your books will give me a wonderful head-start learning about NGA and western NC trout. I'll be using the little two-handed spey rods so looking forward to posting any luck I have with them."
-Clyde Olson (aka "SpeyBro" on NGTO)




I bought your book to see if you really did give away the best places. Yes, my spots were in there! But you also gave me some other ideas.
- Dennis Popham (aka "Hopper Head" on NGTO)


It doesn't make sense NOT to buy this book.



When was the last time you went into The Fish Hawk, Unicoi Outfitters, Fly Box Outfitters, The Dugout, or ANY local fly shop and didn't drop at least $25.00. What did you buy? Flies that might work? A lure that looked cool? A few leaders, line, or tippet?

I've said this before and I'll say it again - compare that purchase with what you get from a guide book like this. A book that was proudly written and backed by over 3 years of specific research with the exact information you need - it's a no-brainer.


---
Fishing The Chattahoochee Delayed Harvest - A Detailed Guide is a 79-page e-book (PDF format),
available for IMMEDIATE DOWNLOAD.

Your book can be read (and printed) from any computer that has Acrobat Reader (Version 4.0 or higher).

If you don't have Acrobat Reader, you can download it for FREE from here.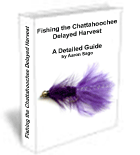 Fishing the Chattahoochee Delayed Harvest
A Detailed Guide
by Aaron Sago
(79-page e-book) (PDF format)
(IMMEDIATE DOWNLOAD!)
Immediate delivery! When you submit your order, you'll be able to download this valuable book immediately!